Who doesn't love the beach. The heat of the sun on your skin, the feel of the sand beneath your feet, the sight of long stretches of gold sand in the distance and the sound of 1200 fitness junkies burying themselves in the Tribal Clash arena!!
Whilst some people hit the beaches of Portugal to surf, swim or just sunbathe a massive tribe of us chose to hit the sand in the pursuit of a large wooden mask. Are we strange and slightly crazy, definitely. Does that make us love it any less, definitely not.
Tribal Clash is basically a workout, a festival, a stag do and sleep over with 1000 mates all rolled into one! If Mad Max had invented a fitness class it would look like Tribal Clash!
Imagine scores of teams, each with 3 men and 3 women in their ranks, slogging it out in sandbag lanes, under towering A-frames to the sound of a DJ pumping out pretty much every style of song you could want mid workout! Now take that image you've got and amplify it by a thousand. Throw some speedos, some glitter, some abs and some fancy headgear at it – now you are close to imaging Tribal Clash. Members of the Saxon community have competed at every UK Tribal Clash ever (sometimes under different box names) but 2019 was our first time trying Tribal abroad.
We've always loved the UK Clash so the addition of pretty much guaranteed better weather, the excuse to spend a week in the sun and the promise of the biggest Tribal to date made Portugal an easy choice. It did not disappoint. The biggest, slickest and most challenging Tribal to date blew our minds, bonded our community and left us wanting more immediately. The monstrous arena, efficient layout, impeccable time keeping and epic crew made the weekend the easiest competition we have taken part in – in terms of admin.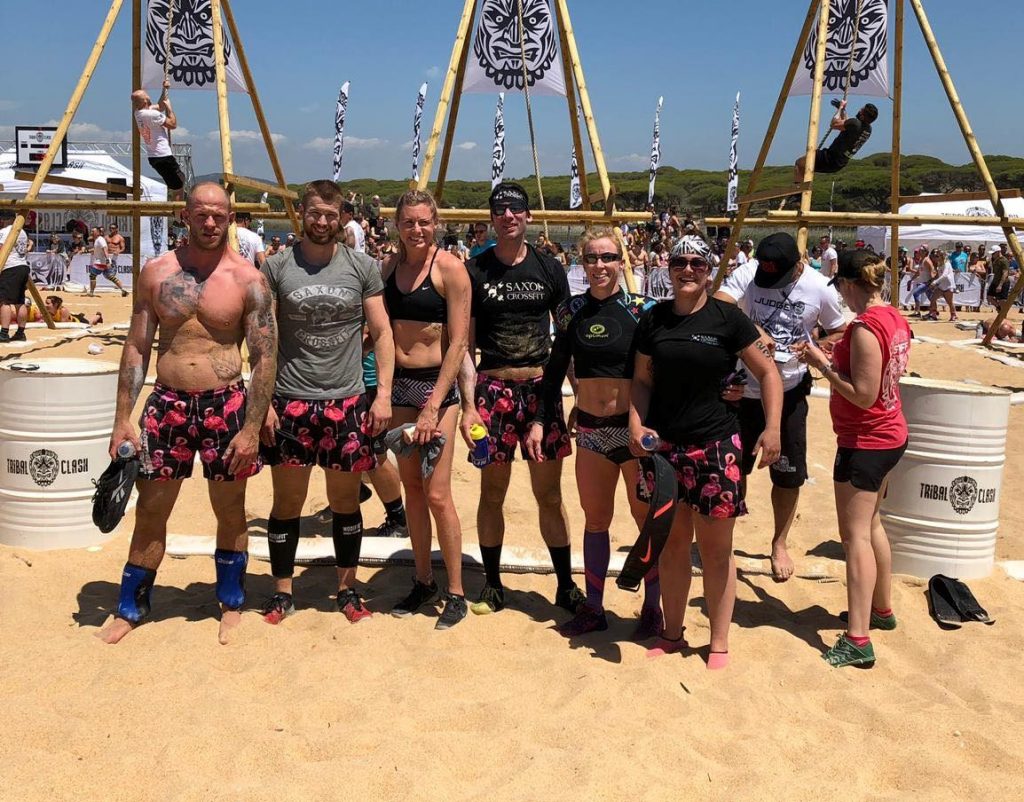 The savage programming, brutal sun and soft sand beaches made it one of the most challenging and hardest comps we have done – physically. Log worms, heavy sandbags, atlas stones, ropes and paddle boards tested our whole team to their max, forced them outside their comforts zones and gave them a sense of accomplishment difficult to find anywhere else.
Squats, lunges, swimming, running and those bloody legless rope climbs left our team tender, aching and desperate for more.
The highlights for Saxon this year include:
Our team member Chris learning to swim and nailing the rescue board swim like a boss. We couldn't be prouder of you dude!
Our entire support squad running alongside team member Els on the savage beach run.
Frances and Alex finishing the run like gazelles!
Our synchro squats being synchro as can be!!!! (Practice makes perfect)
Lisa nailing her worm lunges after they robbed her of her soul last year.
Finishing the first round of paddle boarding inside the seven and a half minute window.
Coach Tim's roar after he managed to lift the 97kg atlas stone. Something he hadn't managed since a back injury 2.5 years ago!
The whole team being absolutely epic, supportive and there for the right reason – to have fun! Tribal isn't for everyone, but it is for anyone. If you want to test yourself, make some epic memories, workout in a way you could never orchestrate yourself and be surrounded by the best element of the fitness community we have ever seen – then Tribal is for you.
See you on the beach.