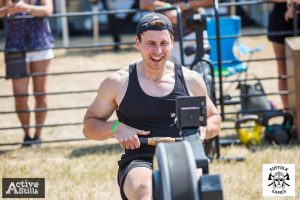 It's been a busy few months at Saxon CrossFit with our move to our new home and the continued development our facilities. Throw in some In-House competitions, external competitions and then the CrossFit Open and you will get one slightly distracted head coach! With the bulk of the work now behind us it's time to get back to some things we've let slip and that includes us naming our Member of the Month each month.
For March the coaching team have nominated Dave Allum as our Member of the Month! Epic work Dave.
Dave is super consistent, hard working and probably one of the sweatiest people at the end of a workout. Fitting in an epic amount of training around busy shifts Dave works hard no matter the workout and is happy to push his comfort levels with WODs outside his wheel house! Having recently taken part in the CrossFit Open Dave has identified some areas to work on and is no doubt going to bring some new skills to the table next year.
Always attentive in classes and keen to learn Dave is an absolute pleasure to coach and have as part of the mighty Saxon clan. His progress over his time with us has been out standing and no doubt his current goals will be demolished soon!
We asked Dave:
What bought you to Saxon CrossFit?
I joined just over 3 years ago, 3 years ago, where has that gone? I'd seen some posts on the notice board at work and was intrigued. I'd been a gym goer for more years than I care to admit. After my first beasting from tim I was hooked.
What's the biggest change Saxon CrossFit has had on your life?
Whereas before I would rock up to the gym, do pretty much the same routine and get the same results, Saxon has changed all that.
Turn up and work hard for those 60 minutes. Being with other people just pushes you on as you are all going through the same pain. 20 mins later you will feel good. I've had to look at what I eat and what I do to recover to allow me to train effectively.
It has also encouraged me to group train in running which I never would have done before.
I now need to look at movements I haven't been able to do before. Kipping, DU's, muscle ups, kick ups into handstands with a view to hspu. I did 19.5 last week, I was bricking it about C2B. I actually did some and got a lot further than I thought possible. I have always been terrible at gymnastics. I need to address this.
What's your favourite thing about Saxon?
You walk into a place where every one is committed and everyone wants to do well and encourage each other. I have huge respect for anyone who comes in here and buys into it. The results and methodology speak for themselves. Just commit and you will see.
What's your ideal workout?
Cardio is hardio. I would like a savage run/row wod, for about an hour. Say 200m/200m or post box, 1k on the rower. I imagine I would then be burnt at the stake by other saxons as my punishment, wicker man style after.
Maybe we could make it a 60 minute emom and stick in 1 min of burpees each round. Sweaty.
Describe Saxon CrossFit in 3 words.
Sweaty, humbling, honest
Tell us something about you that the other members won't know?
The Big Lebowski. Greatest film ever in my eyes. If you ever need a quote then look no further. The dude abides.