Jordan joined Saxon as a member in 2014 and is now our longest serving coach, with 5 years service. He's recently made the decision to commit for another 5 years and to do that undertook and passed CrossFit Level 2 April 26th this year 2022. Jordan's music taste, humour and caring coaching make him and his classes very popular with our members.
Congratulations Jordan, for passing your CrossFit Level 2
We've asked Jordan…
How did you get into Crossfit
One of my close friends had been going to Crossfit for several years and always went on about how good it is. He was a member at a Crossfit box in Norwich (the only one at that time) and said I was wasting my time at the gym and I should join. It was miles out of my way so I couldn't fit it in with work, but when I found out there was one, Saxon CrossFit, just 10 minutes' drive from where I lived, I thought I would give it a go. That was way back in November 2014, when Saxon had only been open a few months. Since then I've consistently trained and loved every minute of training!
As Saxon CrossFit grew I became more and more involved and took the step in to coaching, qualifying for my CrossFit Level 1 in February 2017. 5 years later, still loving it and now Level 2 qualified.
What I love about Saxon is that there is always a welcome atmosphere when you come into the box, plenty of banter, variation of workouts, Suffering as a group during gruelling WOD and last but by no means the least the physical and mental results.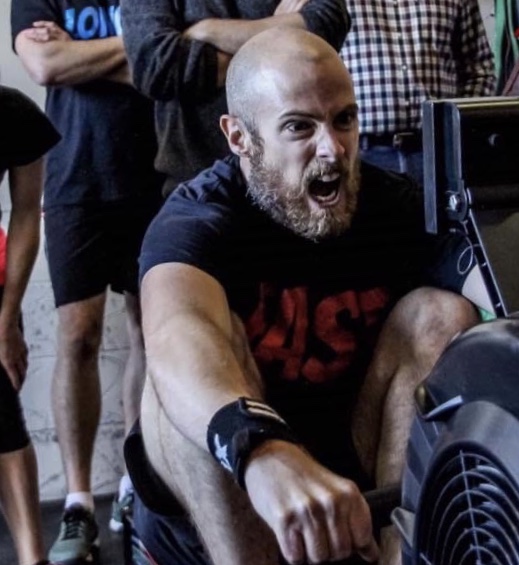 Why do you coach CrossFit
I chose to coach CrossFit at Saxon as I strongly believed in how much of a positive influence it is in people's lives and wanted to be a part of that. CrossFit is something I truly believe in, not only does it have amazing benefits to your fitness levels, it can really make you mentally stronger. It's also a really good way to get to share my taste in music to some of the members dismay (mainly the ones born after the 90's).
Anything else about you that you'd like to share
I have always said yes to new opportunities as I feel you never know what they may lead to. I started off my working career in estate agency, spent time in France teaching English and have now ended up being a Manager in Children's Services. I steered myself into this line of work as I felt it was important to me to make a positive impact on people's lives. I currently have a Wife and two young Children. As soon as my Children are old enough they will be joining Saxon Academy.