Have you seen all the posts recently about Tribal Clash and wondered what it's all about? Thinking of giving the Saxon Tribal Trials a go but not quite convinced yourself yet? Check out the below post from Saxon athlete Frances who who went from Tribal virgin to veteran this summer and loved it!
"The journey to Tribal Clash UK 2018 started before I even set foot in Saxon CrossFit in November 2017…..
Last summer the legend that is Rob 'Bootcamp' Breen had told me about this unique team challenge, set on a sand arena, under mighty wooden A-Frames, on a beautiful beach on the Devon coast. He spoke of impressive feats of strength, endurance and suffering (and cider and tents and no phone signal). This was something I wanted to experience as a spectator, staying in the comfort of an AirB&B and with an icecream or two! Fast forward a year and I was actually in the thick of it, in the arena proudly sweating in a Saxon tee-shirt with the team!!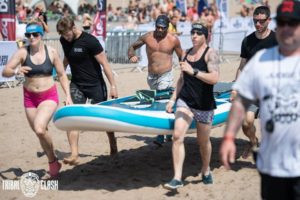 How did this happen? Well…..  I joined Saxon (loved it), nursed a dog-walking-related shoulder injury for a few months (didn't love that) and then I had a go at the Tribal Trials (kinda loved it and hated it at the same time!).  I won't give away all the trade secrets about the Trials, but I will say I could have done with more practice on the A-Frame Up & Overs. Luckily I wasn't alone in not being able to get over that bloody frame unassisted! After a tense wait I was properly chuffed when I was given the chance to be on the team along with Rob, Gav, Alex, Amy, Lisa, Els & Chris. I wasn't quite sure what I'd let myself in for, but it was reassuring to know I wasn't in it alone!
For me a massive part of my tribal experience was in the preparation which luckily involved a surprising amount of shopping.  Anything that involves buying new shoes is always good in my world but Tribal shopping is quite challenging. Amongst other random things on the Tribal shopping list were trainers for swimming in and a wet suit for running in and socks to paddleboard in.
Then there were the team training sessions! These all needed logistical planning, triangulation of data and a spreadsheet and we took over the bottom of the Johnsons garden (thank you Sharon & Vearn!). Rob had to do more carpentry to build another A-Frame and balance beams. A set of Atlas Stones and sandworm were acquired. A serious amount of YouTube was watched. The Training involved getting outdoors and practicing synchronised things like burpees, lunges and squats as well as lifting heavy awkward things as a team like Atlas Stones, tyres, logs and that sandworm (the sandworm is horrible by the way – 240kg of awfulness that needs to be lifted by the team from the floor, to everyones shoulder, over head, to the other shoulder then down to the floor). We also had a few days out as team to the seaside to do open water swim sessions & sand running. We had stand up paddleboard practice, trial running, ate cake…. The list goes on. We grew into a Team! 
My personal challenge before going to Tribal Clash was to get over that A-Frame. I didn't want to let the team down so I spent time hanging about air humping the A-frame in an ungraceful and frustrated fashion for several weeks. With lots of advice and help from coaches Jess and Tim (as well as sympathy from Amy and Lisa about the bruised boobs) the flailing about on the top of the A-Frame outside the Box resulted in me getting over. Once. I was too knackered to try again that day. But then I did it again another day, then again and again! Then Lisa got over and we felt epic!
And so the Tribal Clash weekend arrived. The weather was hot, the beach was pristine, the water cold and somewhat scary. As the sun was dropping low in the sky on the Friday night we were briefed on the beach about the events that lay ahead. Notes were taken, discussions about tactics were had, decisions were made on what to wear & how to do hair (for those of us with hair). On Saturday morning The Tribal Drummers heralded that start of the first event. We stood on the start line in the sand as a team. The adrenaline was pumping and I thought what am I doing here?? I looked at our team as we stood together and I knew – I was here as 1/6th of a team of friend and that everything would be fine! Then the drumming stopped and it was go, go, go.
The events themselves were great – difficult but not impossible when working as a team. Sand stuck to everything, everywhere. Liberal amounts of sunscreen were applied. The support team were fantastic (helping with water, feeding, sunscreen, shouting). None of us came back with any lasting injuries ( the waiver we all signed stated that death was a possible outcome but we avoided that nicely). My favourite event was the Up&Over/Atlas Stone workout. We smashed it. I ate ice-cream without feeling guilty. And I am so proud of our team – we didn't lose our shit.
It was an epic weekend full of personal achievements and our little Saxon team stood united. I am grateful I got to be part of it all. Special thank you to Rob for introducing me to both Saxon & Tribal and for not wearing his top for all weekend.
If you want to see what the events were, have a look on the Tribal Clash FB page – tons of photos and handy little videos detailing the 6 Events as well as the quarters/semis/final (all featuring the beautiful, tanned, short shorts wearing athletes!) If you want to be part of the awesomeness that is Tribal Clash then do the trial! That's a step along the way. "
Saxons have stood on the beach at Tribal Clash since it's first event back in 2013 when Coaches Tim and Jess took a top 10 finish as half of the CrossFit CM2 team. We have thrown down on the beach in the baking sun, the torrential rain and the constant wind and we have loved it each and every time. Next year we have a spot at Tribal Clash Portugal and we are excited to take a tribe of Saxons over to the continent for some sun, some sand and some serious working out!!!