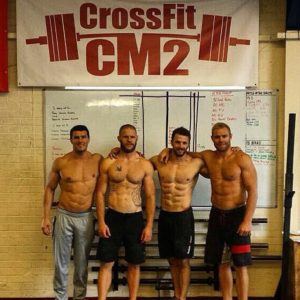 A couple of weeks ago we asked you what topics you would like us to blog about. One of the first requests was to know how and why the coaches got into CrossFit. Here Coach Tim gives us his CrossFit background and just how he ended up creating Saxon CrossFit.
'I found CrossFit the same way a lot of people do, through the internet. One day when looking for articles and videos on 'military style' workouts I came across a video of someone doing a workout called 'Cindy' (For those not in the know Cindy is a 20 minute amrap of 5 pull ups, 10 push ups and 15 air squats). The dude doing the workout was a US marine, seemed super fit and was banging out reps after rep after rep. It looked like something I could get on board with so I went out to my garage, set a stop watch and begun. 20 minutes later I was fucked. (On a side note I did over 30 rounds of Cindy and thought myself an absolute boss. I then discovered range of motion – straight arms at the bottom of the pull ups, chest to the floor on the push ups and hip crease below my knee for the squats. My score quickly halved!)
Having been exposed as nowhere near as fit as I thought I was I dove into following the CrossFit mainsite workouts on crossfit.com – this was when the website was a horrible yellowish back screen and a constant list of people posting their scores for the daily workout, it has since been given a major upgrade.
Then in 2009 I moved full time to London and ended up living in a section house with a communal gym. The first night, after my parents and girlfriend had dropped me off and I immediately felt homesick I went and hit a workout to cheer myself up. I wanted something I didn't have to think about so 'Cindy' was my go to. 3 rounds in and another dude from the gym comes over and says 'Hey, are you doing CrossFit, can I join you?' Boom I had a training partner my first night there.
I lived at the section house for nearly a year training CrossFit style workouts with a few blokes from my team. We got pretty fit. This was the first time I had trained CrossFit in a group environment and the competitive nature was not lost on me – it made me work twice as hard as I had been on my own!
Eventually I left the section house and moved out to Essex with Jess. Jess had always trained and had dabbled in CrossFit up until this point. Once we lived together we trained together and CrossFit was our weapon of choice.
Now this was before there was thousands of CrossFit gyms in the UK and without my handy communal gym we ended up joining a crappy Fitness First in Brentwood. For anyone who has never tried it, CrossFit in a 'normal' gym is hard. Today lots of 'normal' gyms have CrossFit style equipment to try and compete with their local boxes but back then this just wasn't the case. We did pull ups on the cable crossover machine, burpees and double-unders in the dance studio and dragged the rowers over to the free weights area for met-cons. We got super weird looks, all the time and would often return to a piece of kit mid AMRAP to find it being used by someone else. Despite the challenges we loved the style of training, the fact we could train together and compete against one another. (We used to start every workout with 5 rounds of strict 'Cindy', I genuinely think this is why Jess and I are both so good at pull ups and push ups to this day!)
After doing 'CrossFit' at Fitness First for way too long we finally bit the bullet and joined our 'local' (it was a 40-minute drive away) box, CrossFit CM2. We did a taster session, loved it, did our foundations course, loved it, and then joined up as members and loved it!!! We instantly got hooked into the community aspect of CrossFit and pretty much ran our lives around the box.
I remember using an actual wallball for the first time and snatching an actual Olympic bar with bumpers plates and thinking I was in heaven. Why the fuck had I not done this sooner!!!
I very quickly completed my Level One Trainers course and started shadowing the coaching team at CM2. For months I just sat and watched the coaches run the classes, correct people's movements and demonstrate the workouts. Eventually I was allowed to help coach a couple of classes and get involved in the foundations sessions. I remember the first time I was asked to coach a group of newbies on the deadlift and I froze like a mother fucker!!!
During this time, I had also started coaching 'CrossFit' in my other job. Every day before our shift started I would take a load of my team mates through a workout and post our scores in a Facebook group. We would then wait for the other teams on other shifts to upload their scores and compare – it was a pretty cool thing we had running.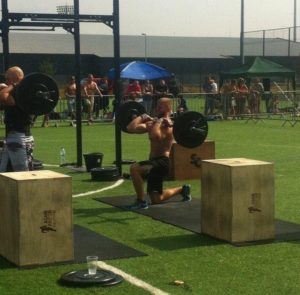 Whilst at CM2 I also entered my first CrossFit competition, The Central Manchester Games. This was before there was a CrossFit competition every weekend in the UK and the CMG were a pretty big deal. I was excited but shitting it – especially when the first event was announced as an open water swim, something I still suck at today!!! Needless to say, I struggled with the swim, nearly drowned and spent the rest of the competition playing catch up! But I loved it and I spent the next 5 years competing as much as I could in CrossFit.
During my time at CM2 I realised I was enjoying coaching CrossFit a lot more than my other job and started looking how to do it full time. The obvious answer was to open my own box. A few quick chats with Jess later and we were moving back to Norfolk to open Saxon CrossFit! It was a huge risk, a scary change and a massive amount of work for two people who had no fucking clue how to run a business. But we did it, it was hard and we made a lot of mistakes but what we created was ours and it was amazing. There have been rough times and smooth times and times when in all honesty I wondered if I had done the right thing in leaving my old job. All it took to remind me that I had made the right choice was to see someone nail their first pull up or box jump or see someone rolling around dying but smiling at the end of a workout. I truly believe I have the best job in the world.
I have now been training in CrossFit for nearly 11 years and can honestly never see myself training in any other way. With no specific training I have run half marathons, completed highly physical courses and tried all manner of sports with good success – all off the back of CrossFit. I honestly believe it is the most effective way to be truly fit and to be the most comfortable in your own skin. I am constantly progressing, learning new skills, getting stronger and faster and pushing my comfort zone to the max. I also get to meet lots of cool and interesting people who are all united by one thing, CrossFit!